Have you heard of it? If not.. you should definitely sign up. It's kind of like Yellow Pages for blogs. Blogs are listed under different categories, so you can find new blogs similar to yours. I think it is an awesome idea, and I can't wait to browse some more! I love meeting new people, and finding new things to try.
They are also a blog in their own right. They post about various conferences and gatherings, and they also feature/spotlight blogs. They even have different
resources
,
classes
, and
blogging tips
. Definitely a blog that you will want to bookmark.
There are several different options when you sign up to be listed in the Guidebook. The simplest package is the free one. It's just a simple text listing in the book. For anything from $20-$40 a year, you can get more complex packages with better listings, including your own button! They will also spotlight your blog or etsy shop for $10-$15. Definitely worth the investment I would say. I'm starting out with just the free package though, since I'm still a baby blog haha.
Click on the adorable little button below to go check it all out!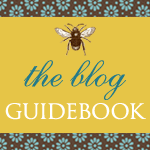 PS If you sign up now, you get a free upgrade for your listing to include your button for one month!