It's Wednesday!! I'm excited, because that means it's time for We Heart Wednesday. I've only done it for one week.. and I'm already loving it! It's so fun to browse through all those pictures.. It's addicting, it really is. This week I decided to pick Black Cats for my topic. I have a black cat, his name is Bagheirah. I love him to death, I really do. I take a lot of pictures of him, because I think he is just so awesome-looking. Very handsome, and studly.
I decided to try one of these free photo collage thingies, since I don't have PhotoShop on my computer here at work.. I haven't quite decided if I like it or not. Input?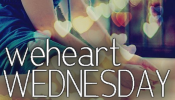 Click on the button to see what WHW is all about!
My Project365 photo for the day, naturally, is my studly furball. He posed so nicely for me =]